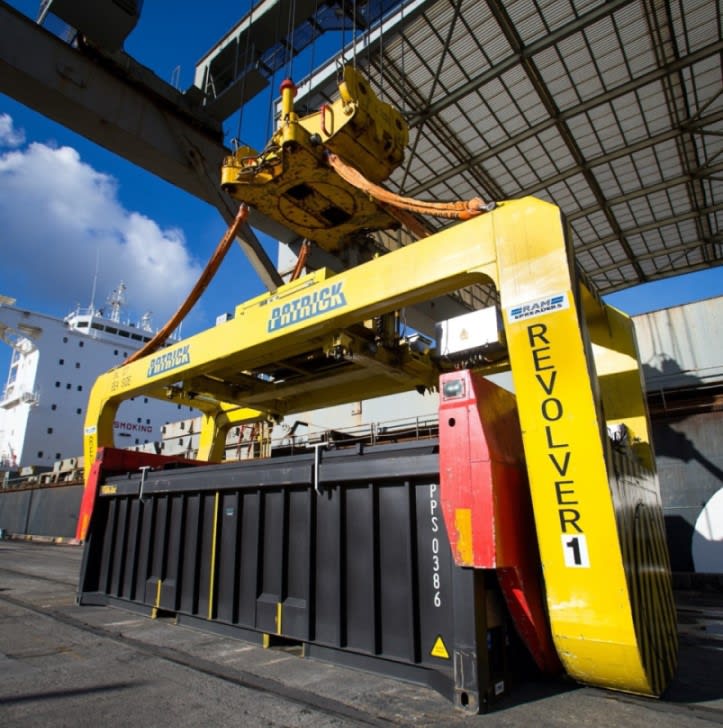 Key Features
Heavy duty design for bulk cargo and mining applications
Waterproof removable hard lid eliminates dust during transit
Suitable for heavy duty mining applications
Tested to 10 years' service life
Stackable when loaded
High Payload and low tare weight. Increased Cubic Capacity
Suitable for use with a wide range of Dry Bulk Cargo & Mineral Concentrates
Designed & tested for operation with Rotating Spreaders (Tipplers)
Economic and Robust Design
The Ore Container is designed for maximum cubic capacity whilst still ensuring smooth discharge of product.  Simple and robust construction with anti-abrasion internal paint, ensures long life with high payloads.
The container can be designed for payloads up to 42,000kg.   The Side walls are tapered and designed to ensure no cargo can hang up when the container is discharged.
Suitable for all forms of cargo
Due to its simple and robust design, the ore container can be the ideal container for customers with multiple types of Dry Bulk cargo.
ISG attention to detail when it comes to designing the interior shape of the container, ensures the Ore Containers can be used with dry Cargo such as Iron Ore, and still be suitable for high moisture bulk cargos such as Mineral Concentrates.
The container is also suitable for handling with any type of existing container handling equipment.
The Ore Container is being used with our customers in Africa to load Iron ore, Australia to load Copper Concentrate, Chile to load Zinc Concentrates and In the Middle east they are using the ore container to load DRI.